Dies ist die Fortsetzung des Bandes, den ich vergangene Woche vorgestellt habe. Mary Weaver wollte sich in ihrem Buch zur Doppelbett-Ergänzung auf 200 Seiten beschränken. Weil aber nicht genügend Platz für alles Wissenswerte war, teilte sie den Inhalt auf zwei Bände auf. Auch beim zweiten Band reichten 200 Seiten nicht aus.
In diesem Buch beschreibt die Autorin ausführlich verschiedene Aspekte des Strickens am Doppelbett, z.B. Stricken mit 2fach-Garnen (Lauflänge ca. 700-800 m auf 100 g), Patentgestrick, falsches Häkelmuster, Wabenmuster, Rundstricken, Socken oder Doppelbettjacquard. Zu jedem Thema gibt es eine oder mehrere Anleitungen für Kleidungsstücke für Kinder und Erwachsene, im allgemeinen in mehreren Größen. Man kann somit das, was man zuvor gelesen hat, sofort an einem tragbaren und brauchbaren Modell üben. Die Anleitungen sind in der für Mary Weaver typischen Weise aufgebaut. Zwar muss man sich daran erst einmal gewöhnen, aber übersichtliche Schemazeichnungen und Tabellen mit genauen Maschen- und Reihenzahlen erleichtern das Nachstricken. Die Anleitungen sind zwar für Empisal/Knitmaster Maschinen geschrieben, aber hinten im Buch findet man eine Art "Übersetzungsliste" für Brother Maschinen und die Abbildungen der verwendeten Standard-Lochkarten.
Sehr hilfreich ist der Abschnitt über das Entwerfen von Kleidung. Weaver beschreibt nur die Grundlagen, aber damit kann man bereits viel anfangen. Auch wie man das Doppelbett justiert, wird ausführlich erklärt. Den Schluss des Buches bildet ein Kapitel über das Arbeiten mit dem Farbwechsler und den Aufbau von Lochkarten für Doppelbett-Jacquard.
Ich kann diesen zweiten Band genauso uneingeschränkt empfehlen wie den ersten.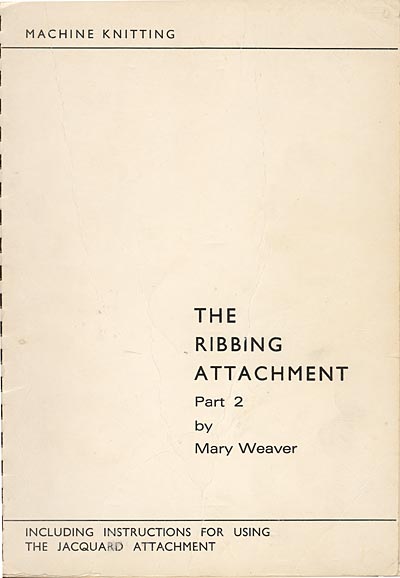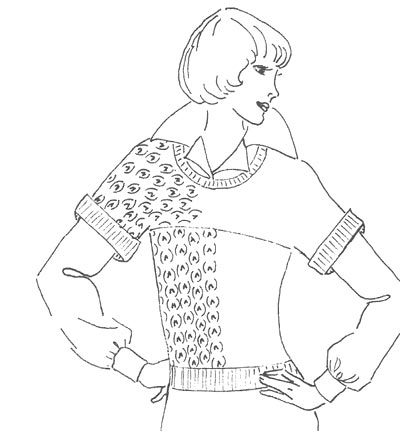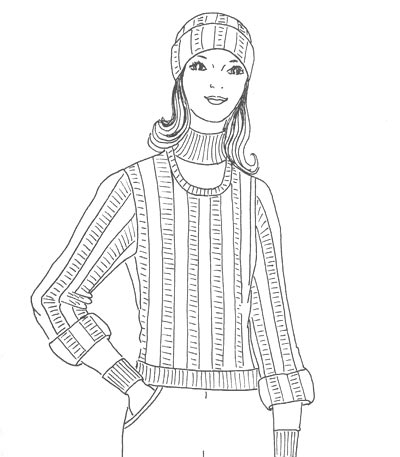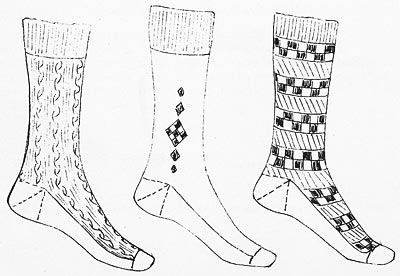 Spiralbound, published 1976 by Weaverknits Ltd, Dartford, Kent, no ISBN. 318 pages, many drawings and illustrations.
This is the sequel of the book that I reviewed last week. Mary Weaver wanted to confine herself to 200 pages in her first book. As there was not enough space for everything worth knowing, she decided to write a second volume. And again 200 pages were not enough.
In this book the author explains in detail several aspects of double bed knitting, e.g. general knitting with 2ply yarns (metrage about 700-800 meters per 100 g), Fisherman's rib, mock crochet stitch, honeycomb stitch, circular knitting, socks or double jacquard. There are one or more instructions basing on each subject so you can immediately practise what you have learned on a useful and wearable garment. The instructions are written in Mary Weaver's typical format. At first you have to get used to it, but then her clearly arranged schematics and tables with precise rows and stitches are easy to follow. The instructions are written for Empisal/Knitmaster machines, but there is a conversion chart for other machines at the end of the book, complete with illustrations of the standard punchcards used.
I find the section about basic garment design very helpful. A lot can be done with Weaver's hints and tips. She also explains how to adjust the ribbing attachment, how to work with the automatic colour changer and how to prepare punchcards for double jacquard.
I do recommend this second volume as much as the first one.