Hier geht es um Röcke, die mit der Strickmaschine (Feinstricker, 4,5 mm Nadelabstand) gearbeitet werden. Mary Weaver zeigt von Grund auf, wie das funktioniert. Sie beginnt mit Hinweisen zu geeignetem Garn und beschreibt verschiedene Methoden zum Stricken von Säumen und Rockbunden, bevor sie auf die unterschiedlichen Stricktechniken eingeht. Im Detail sind es: Faltenröcke, Röcke in diversen Rippenmustern, quer gestrickte Röcke, teils mit verschiedenen Mustern, und Bahnenröcke. Zu jeder Technik gibt es genaue Anleitungen, und zwar nicht nur für Röcke, sondern jeweils auch für dazu passende Jacken oder Pullover. Auch in Deutschland eher unbekannte Methoden wie Shadow Pleating (Plisseefalten durch Kombinieren von dünnem und dickerem Garn) werden beschrieben.
Dieses Buch ist bestens geeignet für alle, die ihre Strickmaschine auch für etwas anderes als Handstrick-ähnliche Kleidung verwenden wollen. Zwar entsprechen die Modelle nicht mehr der aktuellen Mode, aber Mary Weaver vermittelt die nötigen Kenntnisse, um professionell ausgearbeitete Strickröcke und -kostüme herzustellen. Mein Exemplar stammt übrigens aus dem Nachlass von Dodo Bürkel.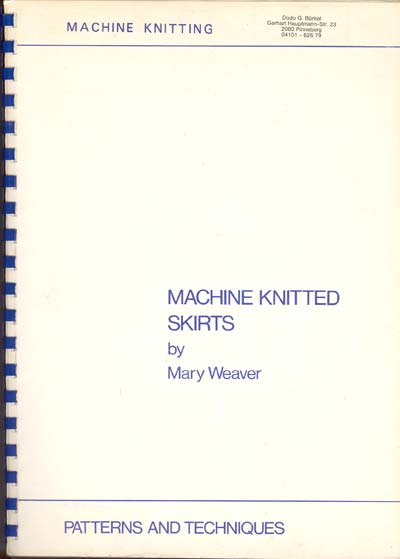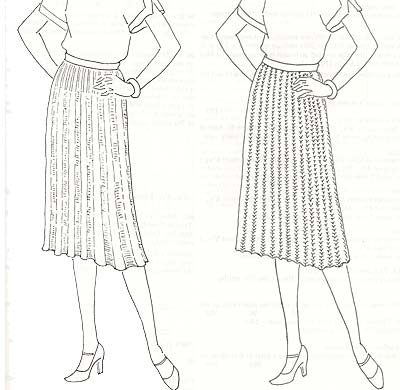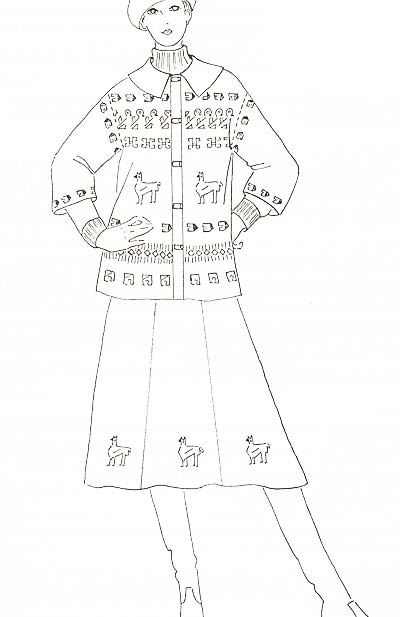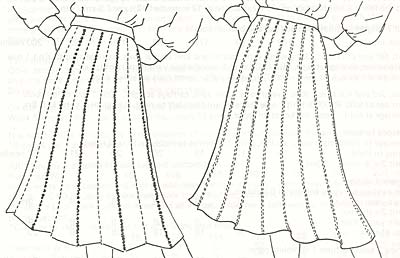 Spiralbound, published 1982 by Weaverknits Ltd., Dartford, Kent, ISBN 0 950985 1 9. 172 pages, many drawings, diagrams partly in colour.
This book is about skirts made on the standard gauge knitting machine. Mary Weaver describes from scratch how it is done. She starts with tips on suitable yarn, shows several different methods for hems and waistbands and explains the various possible knitting techniques. These include: pleated skirts, ribbed skirts, sideways knit skirts, some with additional patterning, and paneled skirts. Each technique is covered with complete instructions not only for the skirts but also for accompanying jackets and tops. Even techniques like shadow pleating (knitting pleats by combining fine and thicker yarns), unusual in Germany, are explained in detail.
This book is particularly suitable for those of us who want to use their machines not only for garments mimicking hand-knitting. Although the garments shown are outdated, Mary Weaver imparts the necessary knowledge to knit professionally made up skirts and suits. By the way, I inherited my book from Dodo Bürkel.